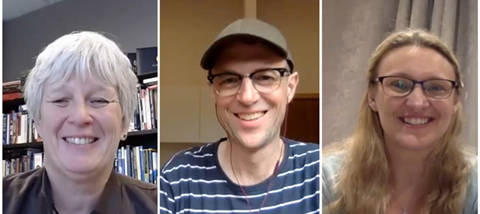 <iframe title="Coronavirus: How will it change the church and the world? AJ Roberts, Mark Sayers and mystery guest" height="122" width="100%" style="border: none;" scrolling="no" data-name="pb-iframe-player" src="https://www.podbean.com/media/player/3e45u-d6b89a?from=pb6admin&amp;download=1&amp;version=1&amp;auto=0&amp;share=1&amp;download=1&amp;rtl=0&amp;fonts=Helvetica&amp;skin=1&amp;pfauth=&amp;btn-skin=107"></iframe>
In a special edition of the show, recorded from home, Justin looks at the present Coronavirus crisis, how the pandemic will change global society and how the church can respond.
He chats with Reasons To Believe virologist AJ Roberts, church and culture theologian Mark Sayers and introduces a special guest for the first time… his wife Rev Lucy Brierley.
Justin also announces the sad but inevitable news that Unbelievable? The Conference 2020 is being postponed due to the Coronavirus.
Get the MP3
For AJ Roberts https://reasons.org/about/anjeanette-roberts
For Mark Sayers https://www.marksayers.co/
Subscribe to our newsletter and receive the free Unbelievable? e-book 'In Conversation With…' https://www.premier.org.uk/Unbelievablenewsletter
Support the show and receive all the videos sessions from Unbelievable? USA 2019 https://resources.premier.org.uk/supportunbelievable/
For more faith debates and extra resources visit http://www.premierchristianradio.com/Shows/Saturday/Unbelievable
Join the conversation: Facebook and Twitter
Listen via Podcast