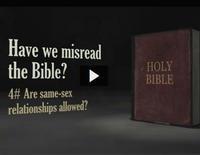 After changing to a gay affirming stance, Steve Chalke's Oasis Trust has been dismissed from the UK Evangelical Alliance.
In this final exchange Steve Chalke and Andrew Wilson of New Frontiers debate the scriptural and pastoral issues on both sides of the church and homosexuality debate.
Get the MP3
Book for Unbelievable? The Conference 2014 www.premier.org.uk/reasonablefaith
This show brought to you in partnership with www.biola.edu/apologetics and in association with www.reasons.org
For more faith debates visit www.premier.org.uk/unbelievable
Join the conversation: Facebook and Twitter
Get the MP3 podcast of Unbelievable? http://ondemand.premier.org.uk/unbelievable/AudioFeed.aspx or Via Itunes
You may also enjoy:
Unbelievable? 19th January 2013 - Steve Chalke on his new gay affirming stance.
Unbelievable? 27th July 2013 - A Different Kind Of Coming Out + Savi Hensman & Peter Ould debate