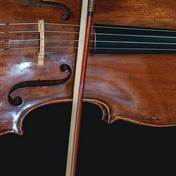 Laura Miller was captivated by Lewis' Narnia stories as a child. As a teenager she learnt of the Christian parallels in the books and felt "cheated and betrayed". Find out why in today's programme and how she has come to terms with Narnia by writing "The Magician's Book".
Michael Ward is a leading expert on CS Lewis and author of "Planet Narnia". As a Christian the Narnia stories served to deepen his faith, and he has also recently uncovered a rich secret within the books that has gone unnoticed until now.
They discuss how the Christian Narnia affected Miller and some of the criticisms she levels at them in her book.
Get the MP3
For Michael Ward see www.planetnarnia.com
For Laura Miller see www.lauramiller.org
If you enjoyed this discussion you may also enjoy:
Unbelievable? 8 Dec 2007 The Golden Compass - is it atheist propaganda?
For more Christian/non Christian discussions visit www.premier.org.uk/unbelievable
Get the MP3 Podcast or subscribe via iTunes