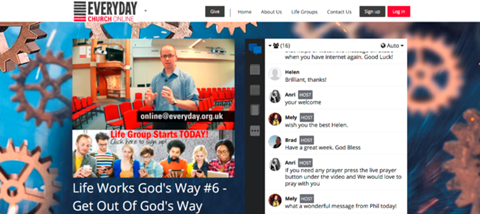 The countdown video begins, the music is turned up loud and I'm getting ready to worship God. But I'm not in London's latest megachurch. I'm sitting in the comfort of my own home, on the sofa. Church has gone digital, and the ramifications are significant: It's now possible to attend church in your underpants.
Everyday Church (which has 'real life' congregations in Wimbledon, Kingston and Southfields) launched its online-only congregation in September. Participants visit everyday.online at 4.30pm or 6pm on a Sunday, and join in with the service.
What happens during the service?
Unlike some churches who livestream their services, Everyday have chosen to pre-record all their content. The online church pastor welcomes you to the church through a pre-recorded video message. Everyday church's worship band then play songs – again you're watching a pre-recorded video. And then a sermon is given, which needless to say, is pre-recorded.
Is anything live?
The chatroom is live and open throughout the service. You can talk to other people in real time about what you're watching (like real life church, you can talk during the sermon). Hosts are on hand to type a warm welcome to you and answer any questions you have.
How is a sense of community being developed?
You can press a button to request prayer. This will open a new private chat area – where a member of the online community will pray for you. The church has also launched online life groups.
How many people go?
Perhaps understandably at its launch, I'm told there were 'hundreds' at the first service. But the system was showing considerably less people in attendance at the service I attended. At least 4 of these were 'hosts' (a cross between a welcome team member and chatroom moderator).
Like offline church, there were a few latecomers. And some people appeared to leave during the preach (there was nothing to suggest they were storming out).
How good is the technology?
Superb. As long as you've a decent internet connection, attending this church is a stress-free experience.
Can other people hear you singing during the worship?
Thankfully not. Each person is encouraged to sing along with the worship band, but you can't hear other members of the congregation. You can only type to them through the chat section.
What did you sing?
The worship is charismatic with a full band (drums, guitars etc) and tunes by Bethel and Newday.
What was the sermon like?
Excellent. Phil Moore is currently preaching his way through Proverbs. The sermon I watched was on revenge and forgiveness. A handy feature of this online congregation is you can not only view and follow the sermon notes, you can also email them to yourself at the touch of a button.
Will you be going back?
I'm lucky enough to have an offline community that I'm a part of. But for those who are housebound or are daunted by the prospect of visiting an offline community on their own, Everyday.online could be exactly what they're looking for. It could also work as a tool for evangelism.
Is this the future?
Honestly? I don't think so. Many thousands of Christians, myself included, download or stream sermons (download Everyday Church sermons here). And that will continue and increase. But tuning in at a specific time to hear that sermon doesn't do much for me. I also found the experience of singing at my laptop screen a little odd.
More importantly, church is supposed to be corporate and congregational. Despite Everyday's best efforts, it doesn't seem possible to replicate the level of real life church community in the online world. While we love WhatsApp and Skype, most of us recognise that face-to-face communication is the ideal to aim for - especially when it comes to the kind of important relationships we're supposed to be building within church community. There's nothing inherently wrong with new forms of communication or online congregations. But both of these will always be second-best. Virtual reality is not reality.
Is there anything else like this in the UK?
No, and for that fact alone, Everyday Church should be commended. Although the experience was alien to me, for others this could be exactly what they're looking for.
For more information visit everyday.online
Interested in technology and faith? Check out the Premier Digital Awards and Conference