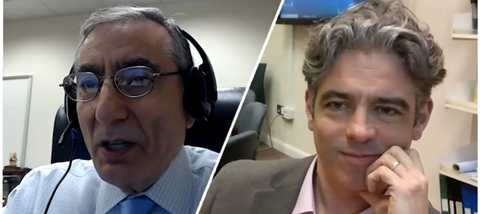 Prof of Nanotechnology James (Jim) Tour & Glasgow biology Prof Lee Cronin debate contemporary Origins of Life research and whether Lee's laboratory is on the way to discovering it.
You can watch/listen to the first Unbelievable? debate on this subject featuring Lee Cronin here: https://www.premierchristianradio.com/Shows/Saturday/Unbelievable/Episodes/Unbelievable-How-on-Earth-did-life-begin-Lee-Cronin-Perry-Marshall-and-Denis-Noble-on-the-origins-of-life
Plus Justin speaks to Rev Richard Burridge about the 150th anniversary lecture event for the Christian Evidence Society.
Get the MP3
For James Tour http://www.drjamestour.com/
For Lee Cronin http://www.croninlab.com/
For Unbelievable? the Conference 2020 https://www.unbelievable.live/
For A Evening with NT Wright on 12 March https://www.ecevents.uk/spck/tw/Site/Register
For The Christian Evidence Society 150th anniversary event on 5 March http://christianevidence.org/blog/entry/celebrating_our_150th_anniversary
Subscribe to our newsletter and receive the free Unbelievable? e-book 'In Conversation With…' https://www.premier.org.uk/Unbelievablenewsletter
Support the show and receive all the videos sessions from Unbelievable? USA 2019 https://resources.premier.org.uk/supportunbelievable/
For more faith debates and extra resources visit http://www.premierchristianradio.com/Shows/Saturday/Unbelievable
Join the conversation: Facebook and Twitter
Listen via Podcast