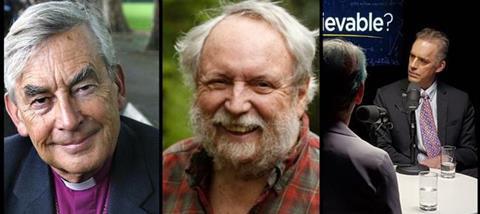 Lord Richard Harries is the former Bishop of Oxford and a life peer in the House of Lords. His book 'The Beauty And The Horror: Finding God in a suffering world' (SPCK) delves into art, history and literature to show why Christianity can make sense of both the beauty and the tragedy of life.
He debates the search for meaning and beauty, and the question of why God allows suffering with atheist Michael Ruse, Professor of History and Philosophy of Science at Florida State University.
Towards the end of the show Justin also plays a preview clip of a forthcoming debate between popular Canadian psychologist Jordan B Peterson and atheist psychologist Susan Blackmore ahead of the launch of The Big Conversation dialogue series later this year.
Get the MP3
For 'The Beauty and the Horror' by Richard Harries: https://www.amazon.co.uk/Beauty-Horror-Searching-Suffering-World/dp/0281076936
For 'On Purpose' by Michael Ruse: https://www.amazon.co.uk/Purpose-Michael-Ruse/dp/0691172463
For Unbelievable? the Conference 2018: http://www.premier.org.uk/justask
Get signed copies of Unbelievable? the book and audiobook: www.unbelievablebook.co.uk
Get Unbelievable? the Conference 2017 DVD/CD & Digital Download: http://www.premier.org.uk/shop
For more faith debates visit http://www.premierchristianradio.com/Shows/Saturday/Unbelievable
Join the conversation: Facebook and Twitter