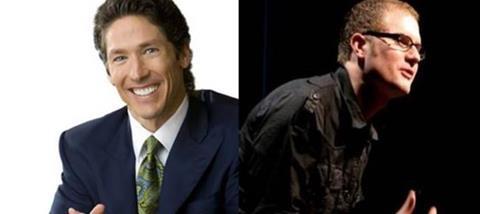 In this podcast-only edition of the programme, Justin Brierley delves into the archives to air a radio documentary which was first broadcast in 2009. He and his family went on a US road trip to visit two megachurches and meet their pastors.
Lakewood Church in Houston, Texas is the largest church in America with over 40,000 in attendance each week. TV pastor Joel Osteen broadcasts his message of health, wealth and positivity to thousands more every week. They also visited another large (but very different) church in Grand Rapids, Michigan. Mars Hill Bible Church, pastored at the time by Rob Bell, was seen as a thriving example of the so-called 'emerging' church.
The programme compares and contrasts the two different churches and their leaders. Justin and his wife Lucy share their thoughts on the experience and what the UK can learn from the American example.
Get the MP3
For Unbelievable? The Conference 2016: http://www.premierchristianradio.com/unbelievable2016
To donate to Premier Christian Radio's 'Extend The Hope' appeal: http://www.premier.org.uk/donate
For more faith debates visit http://www.premierchristianradio.com/Shows/Saturday/Unbelievable
Join the conversation: Facebook and Twitter