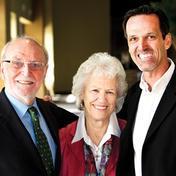 "Arguing against God's existence is on a par with arguing against air, breathing it all the while". So says the website of Sye TenBrugencatte who believes that Christians need to rediscover the power of 'presuppositional apologetics'.
Our use of the laws of logic, mathematics, science and morality cannot be accounted for unless we believe in a God who guarantees our perceptions and reasoning is trustworthy in the first place.
Paul Baird describes himself as a "freethinker". He debates whether he is obliged to believe in God when faced by Sye who argues that atheists are effectively "suppressing" the truth of God that is self evident - as described in Romans Ch 1.
Get the MP3
Sye's website is http://www.proofthatgodexists.org/
Get the MP3 Podcast or subscribe via iTunes
Join the conversation on Facebook and Twitter
If you enjoyed this programme you may also enjoy:
Unbelievable? 13 Jun 2009 The Moral Argument For God - Atheist Paul Orton & Christian David Robertson
Unbelievable? 1 Nov 2008 - Atheist Bus Campaign: Its creator Ariane Sherine, Humanist Hanne Stinson and Christian Paul Woolley debate