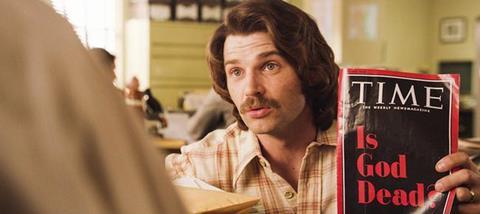 Based on the book of the same name, The Case for Christ movie follows Lee Strobel's true story from staunch atheist to believer. With a law degree from Yale, Strobel had great job prospects and soon found himself as the legal editor of the Chicago Tribune. This coupled with a beautiful home and family meant the future looked bright. That was until Lee's whole world flipped upside down. Why?
His wife, Leslie had become a Christian.
Fearing the worst for their marriage, Strobel set out to debunk the Christian faith by investigating the alleged evidence, applying his journalistic skills and background in law. By discrediting the Bible, he hoped to convince his wife to leave her new found cult behind.
Much to his surprise, Strobel was confronted with highly compelling evidence supporting the truth of the New Testament and the life, death and resurrection of Jesus Christ. All of this shook the very foundations of his atheistic beliefs and eventually lead him to conclude, "It would have taken more faith for me to maintain my atheism than to become a Christian."

Since its initial release in 1998 the book has become an international bestseller, with over 14 million copies sold worldwide.
The film's writer Brian Bird and director Jon Gunn deserve high praise for their adaptation of this story to the big screen. The film isn't simply a rigid presentation of evidence, but a multi-layered narrative which explores the very deepest of human desires: The longing for truth, meaning, love, acceptance, and purpose.
Despite a shoestring budget of $3m, The Case for Christ has surprisingly high production values. One of the regular criticisms of the Christian film industry is the bad acting or cartoonish plots. But this movie features exceptional performances from talented Hollywood actors who have also appeared in major big budget productions including The Silence of the Lambs and Red Dragon.
Strobel's character (Mike Vogel) is introduced as a hard-working, charismatic and successful journalist. Having been awarded a promotion from his company, he celebrates with his family. After a close call with death during the celebrations, Leslie is brought to a point of crisis and suddenly awakens to the reality of God, much to the dismay of her husband. It's from here that the story begins to unfold and the film enters its most exciting phase. While Lee investigates the evidence for his wife's Christian faith, he must also investigate the evidence of an alleged cop shooting for a court trial. Both narratives weave together and bring Strobel to his own crisis point where he must to decide if he's really determined to follow the evidence, wherever it may lead.
The dynamic between Lee and Leslie Strobel is portrayed well on screen and demonstrates how ultimately, it's not just the evidence for Christianity that leads him to Christ, but his wife's lived-out, practical faith.
Unlike many Christian films, the script has a lot of depth and realism which propels it to a very high standard. Strobel's journey from atheism to faith is very believable and the viewer feels very much a part of the journey. It's clear early on that Strobel is dead-set against Leslie's conversion and the filmmakers don't pull any punches. There is a real sense of betrayal, division and raw emotion which constantly threatens to tear their relationship apart, and both Vogel and Christensen do an outstanding job of bringing all of that emotion to the surface.
The film's key selling point is the evidence for Christianity. Considering the film is less than two hours long, I was satisfied with how the proof for Jesus was presented. The average Christian apologist will of course long for more depth, but the good news is the film consciously promotes the book, which is significantly more detailed.
With the exception of Mel Gibson's Hacksaw Ridge and The Passion, this is easily the best Christian film I've seen over the past decade. If we want to keep it in cinemas, Christians and churches should show their support and find a screening to attend in the coming days (details below).
But this isn't a film that's solely for Christians. Sceptics will also benefit from watching it. In today's society where faith and reason are so often presented at odds with one-another, The Case for Christ is an important challenge to that cultural paradigm. If both sides are allowed to set their prejudices aside, the evidence can and will speak for itself. For many Christians, it might be the first time they are able to grapple with facts and their faith. For sceptics, it might be the first time they realise the two aren't mutually exclusive.
The Case for Christ is in the following Showcase cinemas from 15-17 September: Reading, Peterborough, Bristol, Manchester, Leeds, Coventry, Nantgawr, Glasgow and Paisley.
It will also be screened in the following Odeon cinemas from 15-21 September: Lee Valley, Southampton, Greenwich, Kingston, Great Northern Manchester. It will also be shown at Moviehouse Yorkgate during this time.