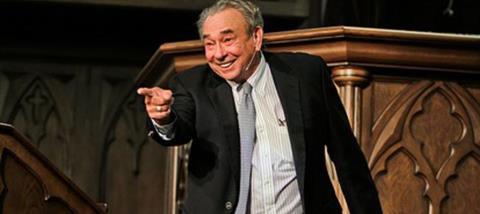 One of the most influential Reformed preachers in America passed away yesterday.
Robert Charles Sproul was 78.
Known as RC, the theologian and pastor penned over 60 books, most notably The Holiness of God. Like all of his work, the book emphasised God's sovereignty, arguing that if God was not in total control of even a single atom in the universe, he would not be God.
He was similarly strident on the Bible – arguing it is inerrant (without error). These beliefs on sovereignty and inerrancy are now fairly popular among evangelicals in many parts of North America, but as Denny Burk has observed, "Dr. Sproul was reformed when reformed wasn't cool."

He produced 300 lecture series, dozens of articles and even several children's books. He also oversaw the production of The Reformation Study Bible (click here to read my interview with Dr Sproul about the project).
In paying tribute to Dr Sproul, Russell Moore from the Ethics & Religious Liberty Commission of the Southern Baptist Convention said: "It is hard to overestimate his influence on gospel-resurgent evangelicalism."
Fellow Reformed theologian John Piper praised Sproul's "unashamed allegiance to the absolute sovereignty of God" and "total devotion to…the radical relevance of the Scriptures."
"He had a serious and rigorous attention to the actual text of Scripture. He was not making his points in general, as his sermon floated in a fog above the text. He was reading the text."
According to Piper, RC's goal was "a heart that is stunned and humbled and captivated by the transcendent greatness and purity of God."
'He never took himself too seriously'
Sproul dealt with weighty matters in his teaching. But having known the man personally, Piper saw another side to the teacher: "His smile and his laughter and his affirmation were real and deep. They were not frivolous."
Justin Taylor from The Gospel Coalition has made a similar comment: "He gave the impression that while he was deadly serious about the subject matter under consideration, he never took himself too seriously."
On death
Having devoted his life to Christian teaching, Sproul spoke on a variety of topics, even his own death: "I recently heard a young Christian remark, 'I have no fear of dying.' When I heard this comment I thought to myself, 'I wish I could say that.' I am not afraid of death. I believe that death for the Christian is a glorious transition to heaven. I am not afraid of going to heaven. It's the process that frightens me. I don't know by what means I will die. It may be via a process of suffering, and that frightens me.
"I know that even this shouldn't frighten me. There are lots of things that frighten me that I shouldn't let frighten me. The Scripture declares that perfect love casts out fear. But love is still imperfect, and fear hangs around."
He maintained an absolute confidence in God's goodness, even to the point of death. "You can grieve for me the week before I die, if I'm scared and hurting, but when I gasp that last fleeting breath and my immortal soul flees to heaven, I'm going to be jumping over fire hydrants down the golden streets".
Legacy
Dr Sproul was converted while on an American football scholarship at university. After buying a packet of cigarettes he got talking to the football captain who quoted Ecclesiastes 11:3: "Whether a tree falls to the south or to the north, in the place where it falls, there will it lie."
Sproul recalls: "I just feel certain I'm the only person in church history that was converted by that verse! God just took that verse and struck my soul with it. I saw myself as a log that was rotting in the woods. And I was going nowhere."
"When I left that guy's table I went up to my room. And into my room by myself, in the dark, and got on my knees and cried out to God to forgive me."
Years after his conversion, the preacher formed Ligonier Ministries. From humble beginnings it has grown substantially, now sharing two million biblical and theological resources with hundreds of thousands of students, readers, and subscribers in 105 countries every year.
It's a remarkable legacy. But when asked what's the main point of the Christian life, RC Sproul wasn't focused on himself. Instead he said: "Live one's entire life in the presence of God, under the authority of God, to the glory of God."
Click here to request a free copy of Premier Christianity magazine