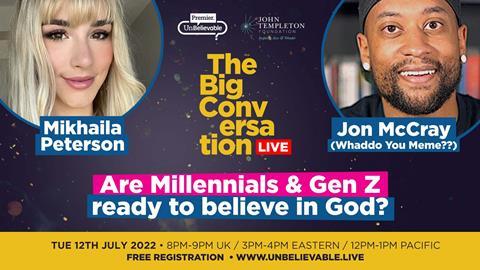 TIMINGS:
Tuesday 12th July - via Zoom
8pm-9pm UK / 3pm-4pm EST / 12noon-1pm
Join Justin Brierley and guests, Mikhaila Peterson and Jon McCray for The Big Conversation Live with audience Q&A
Mikhaila Peterson is daughter of psychologist Jordan Peterson and has established her own significant YouTube and podcast following. She recently revealed the she had found God through a series of spiritual experiences.
Jon McCray runs the popular YouTube channel 'Whaddo You Meme?', responding to internet atheism and engaging popular culture.
As Millennials with a large Gen Z audience, Mikhaila and Jon will discuss their journeys of faith and the search for meaning and spirituality among the digitally-connected next generation.
Hosted by Justin Brierley.
Includes opportunity to ask questions of Mikhaila and Jon.
Free to attend. Advance Registration essential.